A Century of Expertise
Knowledgeable, genuine, and with roots stretching back over 100 years, Curzonia are well placed – both geographically and competitively – to service the European corporate knitwear market.
Curzonia: An old name championing new products in a dynamic market
We are a friendly, professional, well-respected organisation that manufactures an exceptionally long-lasting, high-quality range of knitwear on modern Stoll machinery using only the very best yarns and fabrics. From pill-resistant technology, anti-bacterial and stain-resistant fabric to weather-proof, Curzonia is one of the Europe's leading suppliers of corporate knitwear.
Fully ISO 9001 and 14001 compliant,* our European manufacturing base gives us a competitive pricing advantage without compromising quality or product performance and allows us to respond quickly and effectively to complex orders. We produce non-standard sizes to the same quality levels our customers expect.
The expertise that spans a century of clothing construction strengthens us and benefits our customers. Contact us today to find out more.
Perfectly Positioned to Deliver the Best in Corporate Knitwear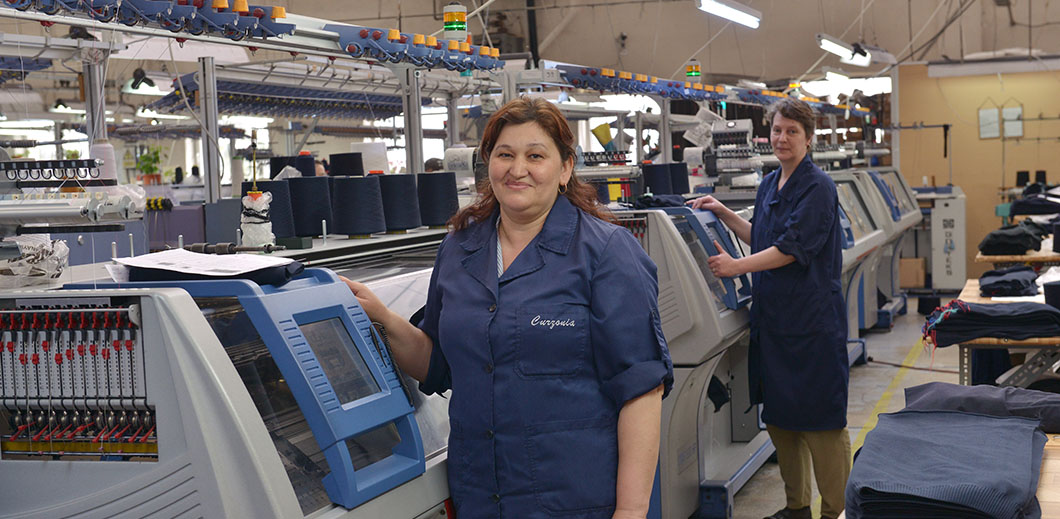 Ethical Operations
We conduct our services honestly and honourably, trade ethically, and expect our suppliers to do the same. This approach extends to our sourcing of raw materials and includes a policy of buying only mulesing-free wool.
We meet the highest expected legal and ethical standards to ensure the health, well-being and safety of our employees, customers and communities and aim to safeguard the interests of all those involved with our business. We make the environment a crucial part of our business activities too, measuring our carbon footprint and maintaining good stewardship – including resource monitoring – to ensure we meet expectations.
We work diligently to be a respected corporate citizen in every country in which we operate and always strive to create an environment in which our people are treated with respect.
We are a member of Sedex (S750068716867). who provide member companies with a secure online platform for sharing and managing information on four key pillars: Health and Safety, Labour Standards, Business Ethics and the Environment. We have a regular Ethical Trade Audit to continually help improve our social and environmental performance.
To learn more about our ethics and approach to environmental stewardship, please get in touch and request a copy of our policy document.
Responsible, Professional Operations
*ISO 9001 : 2008 , Reg No. RO 4596
ISO 14001 : 2004 , Reg No. RO 4270